The Bureau of Labor Statistics (BLS) estimated that there were around 126,700 community health workers in the United States in 2021. Among this number are peer support specialists who feel a sense of fulfillment by improving the lives of others.
If you're a mental health advocate, psychologist, or social worker, you may be interested in the role of peer support in the recovery of people with behavioral health conditions.
But what makes a good peer support specialist?
Additionally, what are a peer support specialist's roles?
What are the things they can and cannot do?
[Related: The Benefits of Peer Support Groups in the Treatment of Addiction(Opens in a new browser tab]
What Is A Peer Support Specialist?
This article discusses the qualities and competencies of a good peer support specialist. It also explains what a peer support specialist is, their functions, and restrictions.
Interpersonal skills are among the key characteristics of a good peer support specialist as they aim to establish long-term relationships built on trust and support with their clients.
You can compare such characteristics to digital marketing agencies that strive to build long-term relationships with clients by establishing credibility, helping to generate leads, and fostering trust.
Read on to learn the key aspects that make an ideal peer support specialist and the roles they take to help clients meet their goals.
How can peer support improve mental health outcomes and prevent relapses?
Competencies That a Good Peer Support Specialist Must Have
Suppose you have been through a recovery process and taken steps to become a peer support specialist. In that case, you must be able to assist individuals experiencing behavioral health challenges. These competencies often include the following:
Recovery-oriented
:
As a peer support worker, you can provide hope to people in your care by helping them envision a life full of meaning and purpose.
You can also help empower these individuals by allowing them to identify and build on their strengths and choose their preferred pathway to recovery.
Good communication skills
:
Some clients may find communicating challenging. It would help if you listened to them with empathy and without judgment.
Use various communication styles and skills to improve your understanding of your client's needs so you can adapt your tone and style to fit the situation.
Good communication also involves using recovery language and emphasizing the strengths of your client's peers.
Recovery language consists of words people use to describe their experience, support, and themselves. Use these words to build respectful relationships with your clients.
Person-focused
:
People with behavioral challenges have different needs, so you must provide personalized peer recovery support.
This way, you can align your services with the individual's preferences, hopes, and goals and respond appropriately to your client's needs.
Trauma-informed
:
When providing peer support to your clients, remember that some may have experienced one form of trauma or another.
SAMHSA (Substance Abuse and Mental Health Services Administration) says that peer recovery support utilizes a strength-based framework that places significant importance on a person's psychological, emotional, and physical safety.
By being more informed about a trauma survivor's experience and behavior, you can help create opportunities for them to regain their sense of empowerment and control.
Resilient and with self-management skills
:
As a peer support worker, you must understand the importance of stress management and self-care.
Emulate the best practices working for those in your care so you can maintain your physical, mental, and emotional well-being while supporting others. Doing so can help you remain calm while defusing challenging or stressful situations.
Continuous learning
:
As your understanding of mental health expands and changes over time, what you know now may change in the future. Continuous learning is necessary if you want to keep up with the times.
Consider approaching life and work with a curious mindset and identify the areas where you have opportunities to learn and develop.
Acknowledge the value of skill development and personal growth while maintaining a connection with a peer support community so you can remain grounded in practical peer support work.
By developing these competencies, you're likely to be on your way to becoming a successful peer support specialist.
What Is a Peer Support Specialist?
If you're interested in providing peer support, you must understand the roles and responsibilities of a peer support specialist.
This profession consists of mental health workers experienced with psychiatric disorders like depression, addiction, and PTSD (post-traumatic stress disorder).
These workers have succeeded in their recovery process and are helping others experiencing similar challenges.
To be a peer support specialist, you must have gone through these situations and been trained to assist or counsel others with these conditions. Becoming familiar with such disorders allows you to act as a role model for clients facing these psychiatric challenges.
This familiarity also allows you to help people with behavioral conditions through shared understanding, mutual empowerment, and respect. This way, you can assist people in their recovery process and reduce their possibility of relapse.
Peer support services aren't only limited to the clinical setting.
This support can also extend the treatment's reach into the everyday environment of those needing a sustained and successful recovery process.
You can provide peer support to assist the person receiving services during the recovery process by performing various activities that include, but aren't limited to, the following:
Instilling confidence

Assisting individuals in their goal development

Developing formal and informal supports

Serving as a mentor, facilitator, or advocate to help improve the health of a person with behavioral, emotional, or co-occurring disorders
PEER SUPPORT SPECIALIST CERTIFICATION
Roles of a Competent Peer Support Specialist
As a peer support specialist, your role within the behavioral health system is to provide supportive services and work with clinical treatment providers.
Specifically, you'll support individuals in their recovery from behavioral health conditions through various activities. SAMHSA lists these activities as follows:
Leading recovery groups

Setting goals and mentoring

Advocating for people in recovery

Building relationships and the community

Honing skills and sharing resources
Additionally, your peer support responsibilities can extend to the following roles:
Supervising other peer workers

Developing resources

Providing services or training, or both

Administering agencies or programs

Educating policymakers and the public
What a Peer Support Specialist Shouldn't Do
Although peer support services have significant potential to enhance clinical services, they aren't clinical.
As such, if you're considering working as a peer support specialist, note that some roles are outside your job scope.
The following are clinical services that peer support workers shouldn't provide:
Medication management

Therapy

Diagnostic assessment

Psychosocial evaluations

Psychiatry services

Therapy groups
Healthcare professionals with specialized education and training are better suited to perform these roles that peer support may not cover.
If you need to learn more about becoming a peer support worker, Painted Brain has information about peer support specialist certification, including registration and training schedules.
---
Peer Support Specialist Certification Training Available!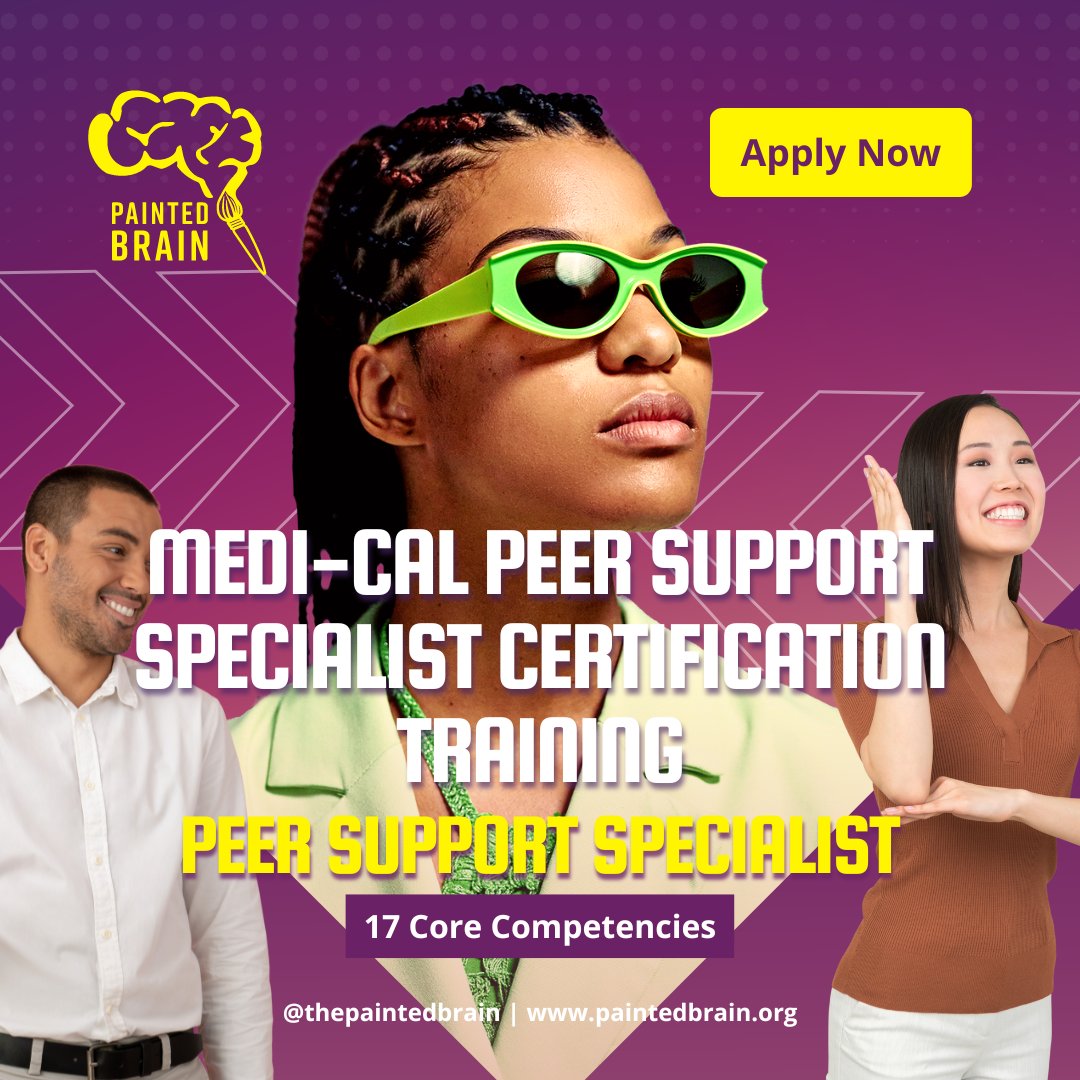 Since 2009, Painted Brain has been advocating for peer-driven services using the recovery model, and in September 2020, Senate Bill 803 was finally passed.
SB 803 recognizes the value of peer support.
Now, peer support services are Medi-Cal billable!
Painted Brain applied to become an approved training vendor for Medi-Cal Peer Support Specialist Certification in California. We're pleased to announce that we are now an approved vendor!
For more information on how to get training, please sign up for our waitlist here.
---